Dental X-rays are used for accurate and timely diagnosis of the patient's dental condition. It allows us to see the anatomy of the tooth from different angles, and thus predetermine and prevent unexpected complications in their treatment.
During a routine examination, a dentist can only identify approximately 30% of dental caries with the naked eye. In addition, he or she cannot detect other anomalies that can only be seen by X-ray. Detecting them, however, can literally save your teeth.
At City Dental Clinic, we also have a modern 3D dental x-ray, which helps you get an even better view by capturing important details that traditional x-rays can't. We use it mainly in endodontics, implant placement, orthodontics, oral and maxillofacial surgery, detection of inflammation and various other cases. Dental X-rays are also suitable for adolescents who are predisposed to wear dental braces.
Types of dental x-rays
Intraoral x-ray – used when a dentist needs to check one or more teeth in detail, for example when checking for decay.
Panoramic dental x-rays – used in cases where the dentist needs to see the overall situation in the mouth.
3D dental x-ray – is the most advanced and informative method that allows the dentist to get a 3D image of the teeth.
How are dental x-rays taken at City Dental Clinic?
At City Dental Clinic, we are equipped with a new Planmeca ProMax 3D Classic dental x-ray machine. In addition to 3D imaging, this machine also provides a digital panoramic image of the teeth, or OPG image, which is used to determine the condition of the teeth, as well as cephalometry, due to orthodontics.
During imaging, a small radiation burden is generated with an exposure time of only 3 seconds, which is many times lower for patients than with conventional CT scanners.
The process of X-ray Imaging
1. The patient stands in front of the machine, where a dental assistant carefully guides them into the correct position.
2. A locking system is placed in the patient's mouth to ensure proper alignment of the teeth. If the teeth and head are not properly positioned and secured, it is possible that an image will not be taken.
3. The instrument is lowered and the rotating arm begins to move in a semicircle around the circumference of the patient's head. The images are sequentially taken into the computer, which usually takes 12 to 20 seconds.
Is a dental x-ray safe?
Modern dental x-rays are built on technologies that expose people to much less radiation compared to the machines used in the past. A single dental X-ray with a dose of less than 1 mSv (milliSievert) poses no significant burden to the body. The radiation dose in this case is comparable to a 4-hour flight in an airplane.
For the radiation threshold to be considered a risk from a health point of view, a person would have to take approximately 200 panoramic images in a row in a very short period of time. So there is no need to worry about X-rays. On the contrary. Thanks to a comprehensive and precise assessment of the oral cavity, many health problems can be prevented.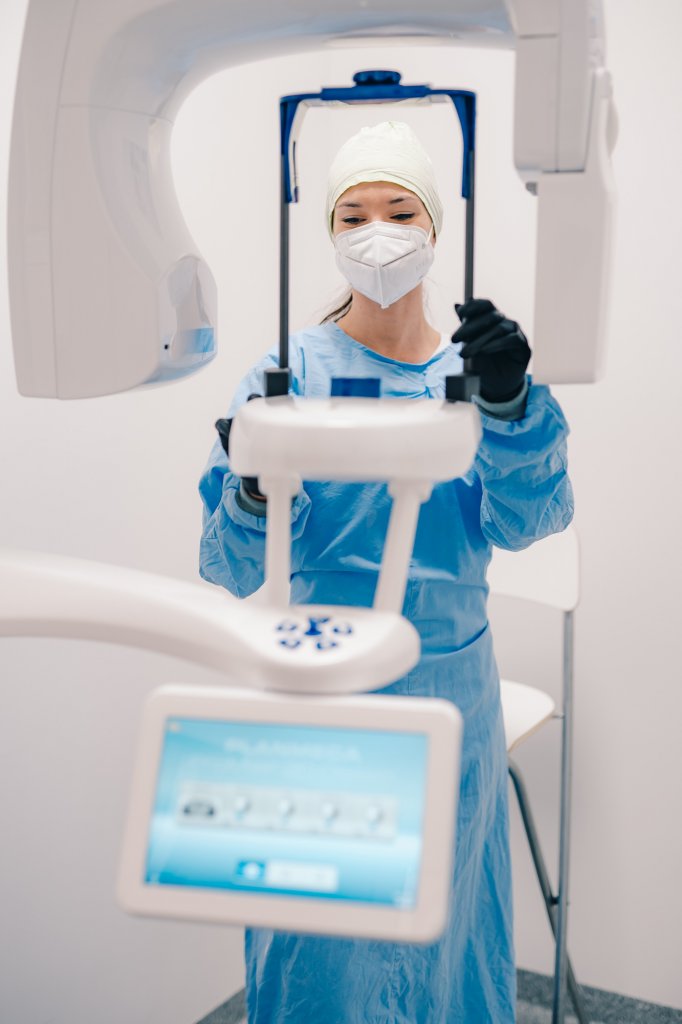 Frequently asked questions
How should I prepare for dental x-rays?
You don't need to prepare at all for a dental X-ray. Just follow the dentist's instructions when you visit.
Is a dental x-ray painful?
No, dental x-rays are painless.
How long does a dental x-ray take?
A 2D x-ray takes only a few seconds and a 3D x-ray takes one to two minutes.
Contact us
Leave us a phone number or email,
we will contact you